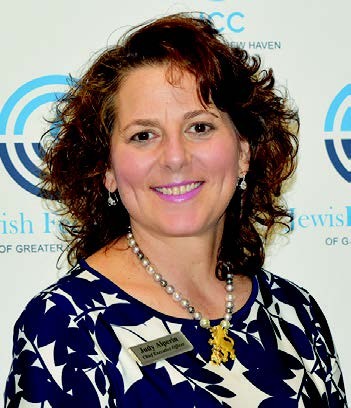 by Judy Alperin
CEO, Jewish Federation of Greater New Haven
We had such a long, cold, dark and dreary winter. But spring is picking up with lush greenery, beautiful blooms and renewal everywhere. Everything hasn't been rosy as a severe storm ripped through the area causing havoc with two tornados touching down and destroying trees, interrupting power and damaging homes and property.
When such events happen in our area, our community responds. Jewish tradition compels us to welcome the stranger and to help the downtrodden. Our community building opened its doors to those who lost power or suffered damage to their homes and invited them to take a hot shower, power up their devices, rest and relax. Just as we were welcomed after the fire by those with offers of help, we were proud to return the favor to the greater community. While we hope that we will be spared future events like this, we stand ready to lend a helping hand whenever we are needed.
As we met and talked with people who found respite in our building, many had never made the trek up the hill and were pleasantly surprised to find such a tremendous facility and the feeling of family and community. These moments are precious and help to build bridges between disparate groups.
Unfortunately, when we take a macro view of the Connecticut landscape, we see the continuing skyrocketing of anti-Semitic, hate and bias incidents. This is one of the reasons why our Jewish Federation was so pleased to work with our partners at JFACT and the ADL to lobby for a Holocaust and Genocide Education bill. Connecticut is the 10th  state in the union to pass such legislation. It is imperative that we teach the lessons of history or the mistakes of the past will be the mistakes of the future.
A great way to experience history upclose is coming up this October when our mission to Poland & Israel takes off. It is not too late to register. Email me at jalperin@jewishnewhaven.org for more information or go to our website jewish newhaven.org and select Mission 2018.
It is gratifying to know that our community's generosity in support of the Jewish Federation's Annual Campaign enables efforts such as the Holocaust & Genocide Education bill to find success. But in order to have the necessary resources to plan, schedule, lobby and support all of the wonderful programs and services, the Annual Campaign must be successful. This year, we have experienced greater attrition than in years past with the passing of several generous donors. The 2018 campaign will close on July 31. Please, if you haven't yet had the opportunity to make your pledge or if you can find it in your heart to increase the gift you have already made, we need your help and it is greatly appreciated.
It's hard to believe that a year has passed since we gathered at Southern Connecticut Hebrew Academy to mark the conclusion of the 2016-2017 year. At that time, we still found ourselves displaced from the fire and were just beginning to dream about rebuilding. We gathered together to give thanks to all those who saved the day, and stepped up to ensure that our community moved forward.
Today, we look around and see a refreshed and revitalized community building and a plethora of new and dynamic programming and facilities to enrich all ages. We are BUILDING connections every step of the way. At the annual meeting of the Jewish Federation, Foundation and JCC on July 17, we will celebrate all that we've overcome and those who helped get us to this shehechyanu moment. Highlights of the evening include the graduation of the current Yesod cohort - Yesod is the community's leadership development program and this year's group is every bit as outstanding as last year's, the transition of Federation leadership from Dr. Norman Ravksi to Dr. Jeffrey Hoos, and prestigious awards such as the Kavod Society, Robert Eisner Community Service Award, Harry Lender Young Leadership Award, the Greater New Haven Harold Grinspoon Award for Excellence in Jewish Education and the Robert M. Pite Youth Award.
Please join us!
PS: If you have not had a chance yet to enjoy delicious coffee, snacks and food in the new Café 360, I urge you to do so. Having a specialized coffeehouse right here at our community's central address is a privilege that can only be sustained by you.