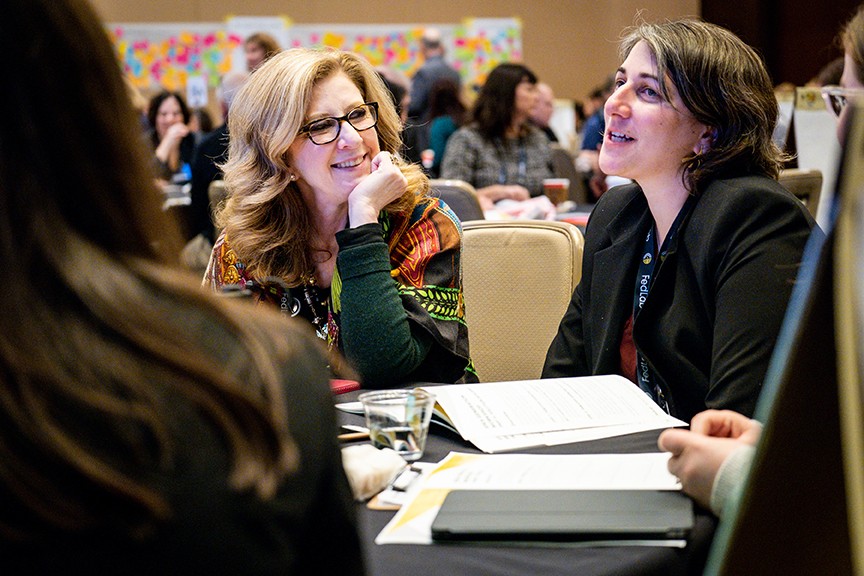 How can Jewish Federations across the U.S. and their partner organizations innovatively reach their communities? In November 2019 at the Jewish Federations of North America's new FedLab event in Washington, D.C., 850 Jewish leaders gathered to delve into three issues facing our Jewish communities: action for good and social services, Jewish engagement, and security. The goal was to brainstorm and begin laying the foundation for local action as well as networking for collaborative initiatives across Federations.
"The inspiring conference challenged us to think beyond our current model with our Jewish Federation as the center hub and local agencies and synagogues as the spokes," said Judy Alperin, the Jewish Federation of Greater New Haven's CEO. She chose to attend the Jewish engagement track. "I returned with ideas about micro-opportunities to engage individuals in a way that is within and without the organization. We heard many fantastic speakers; I was particularly impressed by Sarah Hurwitz, the author of Here All Along, and her insightful rediscovery of Judaism."
Dr. Jeffrey Hoos, president of the Jewish Federation, and his wife, Betsy, a past president, attended the Action for Good track. 
Disheartened by food insecurity issues among the elderly in Greater New Haven and the Russian community in particular, Betsy Hoos wanted to shed light on this "invisible" crisis. Although there are wraparound services and social services agency protocols, there needs to be stronger outreach efforts to identify those that are isolated, or unwilling to come forward and "hiding in plain sight," Dr. Hoos said. The Hooses see the Jewish Federation as a catalyst to identify those in need, match them with appropriate resources and spotlight the food insecurity issue. 
"There is a sense of urgency," emphasized Dr. Hoos. "For Holocaust survivors, time is running out; they need help now. One way the Jewish Federation can take the lead is by bringing people together to combat that loneliness and connecting young people with those living in The Towers. That can also indirectly help the elderly if the young person is trained to keep an eye out for issues."
With the Jewish Federation embarking on its strategic goal process in 2020, the FedLab event happened at an opportune time as the organization makes decisions about deploying resources, creating structures and putting our Jewish values into action, explained Alperin.