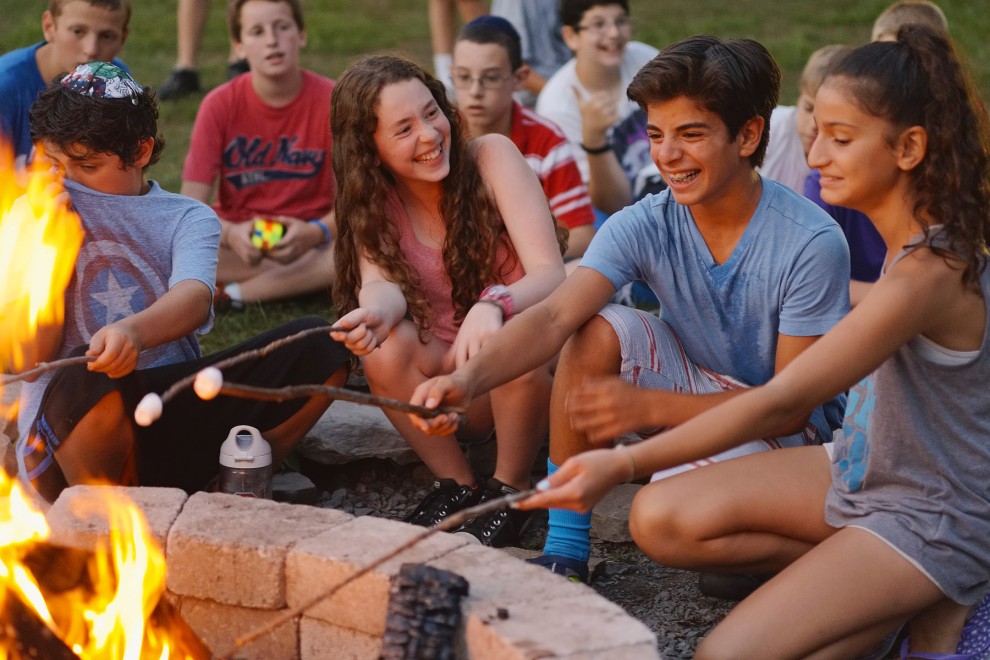 The Jewish Foundation of Greater New Haven is pleased to announce the launch of the One Happy Camper program in partnership with the Foundation for Jewish Camp (FJC). The initiative includes needs-blind incentive grants of up to $1,000 for first-time campers to Jewish overnight camp, as well as needs-based scholarships for first-time and returning campers. Campers must reside in the Greater New Haven catchment area and attend an overnight Jewish camp in North America.
Greater New Haven is the newest community to make Jewish camp a priority in their area. Since 2006, FJC has partnered with more than 100 North American federations, foundations, camp movements, and camps, as well as the Jim Joseph Foundation (JWest), and the Harold Grinspoon Foundation (PJ Goes to Camp) to provide more than 70,000 grants totaling almost $70 million. One Happy Camper grant recipients, just like all campers, are being infused with Jewish education, awareness, and identity while having fun; returning to Jewish camp summer after summer.
The challenge of passing along Jewish connection and commitment to the next generation has become one of the most important concerns of the American Jewish community. Based on CAMP WORKS, the 2010 study by FJC studying the long-term impact of Jewish overnight camp, there is compelling evidence that camp is a proven means of building Jewish identity, community, and leadership. It found that adults who attended Jewish overnight camp are 30 percent more likely to donate to a Jewish federation, 37 percent more likely to light candles regularly for Shabbat, 45 percent more likely to attend synagogue at least once a month, and 55 percent more likely to feel very emotionally attached to Israel.
"We are thrilled to be able to partner with One Happy Camper," said Jewish Foundation of Greater New Haven Executive Director Lisa Stanger.
"Jewish overnight camps are a lifealtering experience. This is a major priority for our community and an important investment for us. We want to enable more children to experience Jewish camp and we are excited we can help our local families to do this." Stanger added, "We hope to spread the word so that many families take advantage of this opportunity."
First-time campers attending one of more than 155 non-profit Jewish overnight camps, including Camp Laurelwood (Connecticut's only overnight Jewish camp) can receive an incentive grant, regardless of need. In addition, campers can apply for needs-based aid for camp regardless of whether they are first-time or returning campers.
Families can find camps and apply for first-time camper incentive grants by visiting OneHappyCamper.org. Families can apply for needs-based aid for overnight Jewish camp as well as view the Greater New Haven catchment area at jewishnewhaven.org/scholarships.
"The Jewish summer camp experience affects children in countless ways and opens their hearts to the joy of being Jewish," said FJC CEO Jeremy J. Fingerman.
"We are passionate about making that experience possible for every Jewish child and deeply grateful to all of our partners who share our commitment to that goal."
The Jewish Foundation of Greater New Haven is a trusted and expert resource for charitable gift planning and endowments and serves as a partner and resource for synagogues, local Jewish agencies, professional advisors and donors.
The Foundation for Jewish Camp (FJC) builds a strong Jewish future through transformative Jewish summers.
FJC BUILDS LEADERS, helping camp professionals and other camp talent develop the skills to lead their camps to exceptional outcomes operationally and educationally. They AMPLIFY JEWISHNESS, developing and supporting programs that deepen campers' and counselors' connection to their Jewish roots and culture. And they EXPAND THE FIELD, continuously expanding the number and variety of summer experiences to attract more—and more diverse—participants. jewishcamp.org