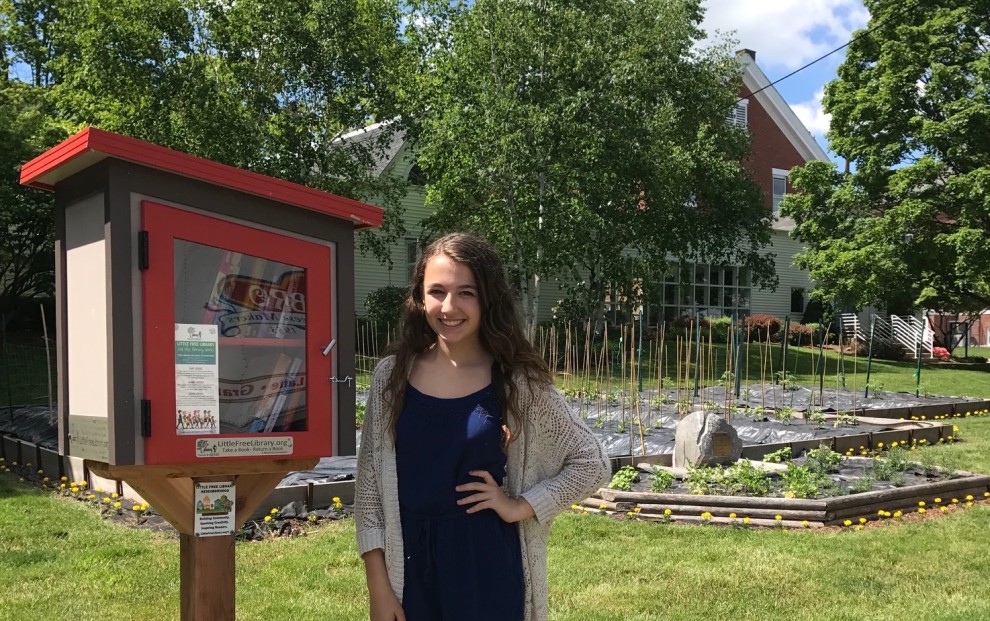 Juliette Markman, who was called to the Torah as a Bat Mitzvah at Temple Beth David in June, recently completed a unique and community-friendly service project – Cheshire's first "Little Free Library" on the temple's front lawn. Little Free Library is a nonprofit organization that inspires a love of reading, builds community, and sparks creativity by fostering neighborhood book exchanges around the world. The concept is simple - take a free book and/or leave one for someone else to enjoy. Through Little Free Libraries, millions of books are exchanged each year, profoundly increasing access to books for readers of all ages and backgrounds (https://littlefreelibrary.org/faqs). 
"The idea first came to me last summer," said Ms. Markman. "Part of becoming a Bat Mitzvah is taking on the moral and social responsibilities of an adult in your community. Temple Beth David has always stressed social action and the concept of giving and sharing both within your own community and in greater society. When my teachers challenged me to develop a service project, I presented my idea to the Board of Directors for adding a Little Free Library to the temple's Mitzvah Garden. They were very supportive and excited." 
Ms. Markman explained, "Raising the money to purchase the unit was not as challenging as I had expected. We decided to do a cleanout in our house of old toys, bikes, clothing, etc. and sold them through the Cheshire Tag Sale Facebook page and local consignment stores. I raised the money for the first library pretty quickly, so I decided to shoot for a second one. The Cheshire Parks and Rec department approved my idea about donating a library at the entrance to Bartlem Park. I visited that playground many times when I was younger, and I think there are a lot of kids who will love picking up a book to read when they get home. Moving forward, I will act as the registered steward of the two Cheshire Little Free Libraries, periodically checking on them and making sure they are always filled with a great selection of books and other reading materials. The libraries will be featured on the organization's world map among the more than 50,000 registered Little Free Libraries worldwide. A big thank you goes to Michael Rosenthal of Guardian 
Solutions in Cheshire, who donated the installation of the units." 
Ms. Markman concluded, "I hope something simple like sharing a good book with someone will brighten their day and promote unity, caring, and sharing." Rabbi Micah Ellenson of Temple Beth David added, "Historically, literacy and access to books has been the great equalizer for all cultures. In the book of Proverbs it says, '[Wisdom] is a tree of life to those who embrace it; happy are those who hold it tightly.' In Judaism, the tree is books and those who hold books tightly acquire wisdom and ultimately happiness. By providing free, easy access to books, I cannot think of a project that better embraces both Jewish and American values."
Please join Temple Beth David for Kabbalat Shabbat services Fridays at 7:30 p.m. and Saturday mornings with Torah Study at 9 a.m.. Family services are held the first Friday of every month beginning at 6:30 p.m.. All are welcome to join Temple Beth David in worship, learning, and social action. Please contact the Temple office at (203) 272-0037 or visit our website at www.TBDCheshire.org to learn more. Temple Beth David of Cheshire is located at 3 Main Street in Cheshire.